Best Coffee Mug Warmer for 2023
Coffee Mug Warmer Table of Contents
Every morning you wake up and want to start a new day with a cup of hot coffee. But then you get caught up in some work or get distracted by emails and only return when the coffee tastes like congealed, cold mud. 
There's nothing worse than starting a day with lukewarm coffee. Fortunately, there is a thing called Coffee Mug Warmer that warms up your tea or coffee that has cooled down and keeps this condition for many hours. It is an electronic machine with heating coils activated when connected to electric power. 
Although microwaving seems to be a great option, but it would ruin the flavour and taste. So why buy a mug warmer to keep your favourite drink warm and fresh?
Types of Coffee Mug Warmer
There are several types of the coffee mug warmer out there. Here are some common ones-
1.    Travel Mug Warmer
Although it's not a mug warmer, it keeps your beverage warm for a long time. So we can count this as a coffee mug warmer. It is an insulated mug comparable to a thermos flask and keeps the coffee warm for hours after brewing it.
2.    Electric Heating Mug Warmer
Electric Heating Mug is the advanced version of Travel Mug. The heating cup comes with rechargeable battery power to heat the insulated cup. You can use it anywhere, as it may not always require an electric connection.
3.    Hot plate Mug warmer
Alike an induction stove, a hot plate usually comes with a round surface that gets heated up on electric power. It can keep your Mug warm the whole day.
4.    USB port Mug Warmer
USB port Mug Warmer is a mug warmer that gets power from a USB port. This one can come in very handy if you spend too much time glued to your PC or laptop.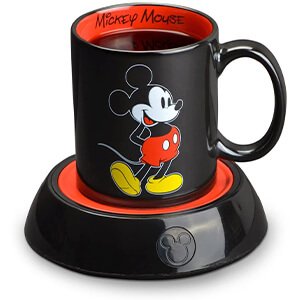 Disney Mickey Mouse Mug Warmer
BESTINNKITS Smart Coffee Warmer
VOBAGA Coffee Mug Warmer&Cup Warmer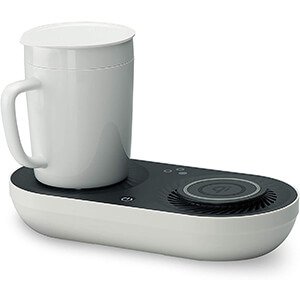 Nomodo Wireless Qi-Certified Fast Charger with Mug Warmer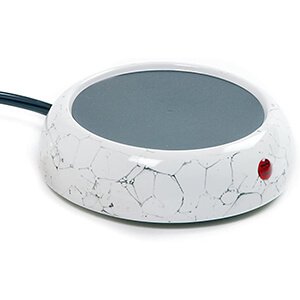 Norpro Decorative Cup Warmer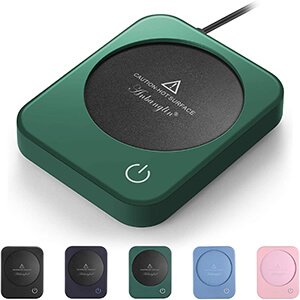 ANBANGLIN Coffee Cup Warmer
There is a wide variety of mug warmers available in the market. Here, we have gathered a list highlighting some of the best mug warmers according to the amazon product review you can buy in 2023. Let's Read and find out which Mug warmer will suit you best.
Simplicity is the game-changer for this product. It is small and compact with a power indicator and an on/off button on the edges. If you hate carrying large items while travelling, Mr. Coffee Mug Warmer will suit you.
Compared to other coffee mug warms, this one is quite affordable. Being practical, functional, and dirt cheap, this warmer is one of Amazon's best sellers and got more than 28000 ratings on Amazon. For those who are curious to try the best-rated coffee mug warmer for the first time, we will recommend this one to try.
2. Disney Mickey Mouse Mug Warmer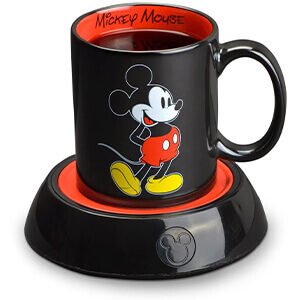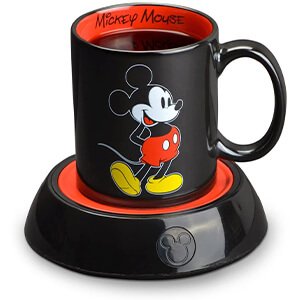 If you're displeased just seeing The Big Ears on TV, now you can admire him over coffee too. This coffee mug maker designed this warmer, especially for Disney Fans. Using this Coffee Mug Warmer, start your day with a cup of warm coffee with Disney land's warmth. But sadly, this won't magically take you to Disneyland for free.
A Mickey shape LED indicator on the front makes this Coffee Mug Warmer, a must for every Mickey Mouse Fan. You can easily use this Mug warmer as a decorator for your living room. This cute warmer got a considerable number of Amazon ratings, and you can undoubtedly purchase this compact Mug warmer.
3. BESTINNKITS Smart Coffee Mug Warmer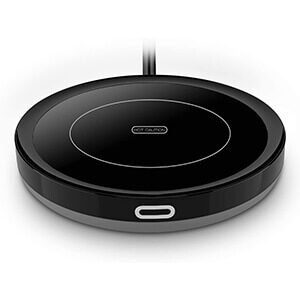 The BESTINNKITS Smart Coffee Mug Warmer is one of the best mugs on this list. Its polished and compact design makes it look more expensive than it is. It's easy to carry when you're traveling. The 5″- width configuration is very compact while still offering one of the most prominent warming regions, at 4 inches.  A layer of thermal conductive glass covers Its heating plate. 
So you can use it without security concern for the occasional spill, and it is easy to clean. When it comes to design, you will get some color options. You can choose from black, pink, red and white. This Mug has some cool features, which makes this a smart mug warmer. It has a built-in gravity induction feature. It gets automatically on when your mug weights at least 13 ounces.
You won't have to turn it on or off manually. For individuals who are sharp in putting resources into the important stuff, this BESTINNKITS mug warmer is the ideal decision for you. You can gift this warmer to your family or relatives on any occasion as a suitable present. With this coffee cup warmer, you can warm your coffee to your liked and desired temperature.
4. VOBAGA Coffee Mug Warmer&Cup Warmer
Vobaga is one of the well-known brands when it comes to the best coffee mug warmer. Its simple and compact design makes it easy to carry, and a 60-degree power cord means it can fit anywhere. It comes with an elegant design. Moreover, you will find this in 5 different colours; Black, blue, white, red, and pink. The temperature control has three settings, 104 ℉, 131 ℉, and 149 ℉; you can easily choose your desired temperature. The warmer's 3.5-inch hot plate provides a large heating surface that allows you to use variable cup sizes. This oversize base also fits bowls, carafes, and even mugs.
The VOBOGA coffee Mug Warmer is the no-1 seller in Amazon with numerous ratings. With auto-shutoff function, this coffee mug warmer shut itself off after 4 hours. You can use tableware, stainless steel cup, Mug, milk box, glass cup, etc., in this warmer. The coffee warmer is heat-resistant and fire-resistant. Besides, the spill-proof design avoids damage and makes cleaning easy. It can be an excellent gift. You can gift this to a lover, dad, mom, wife, husband, and all your loved ones on Valentine's Day, Thanksgiving and Christmas, and other special occasions to show you care.
5. COSORI Coffee Mug Warmer
If you are someone who loves starting a day with a cup of hot coffee every morning, then this COSORI coffee mug warmer will be the best choice for you. When it comes to the appliance by COSORI, it has to be something worth buying. They designed this Mug with high-quality stainless steel that keeps your beverage hot as long as you want. Its compact design makes it sturdy and durable. You can use it in your office, home, or even while travelling. This cup warmer is easy to use, so you'll find this very handy. With the precise temperature indicator, you can know the exact temperature of your coffee.
Moreover, the blue backlight temperature display allows you to switch between Centigrade and Fahrenheit by clicking the two arrow buttons at once within three seconds. It has a large heating plate that gives the user flexibility to various mug sizes and carafes to warm their coffee. The heating plate works well with ceramic, glass, steel, and iron mugs. We will recommend you to use steel and iron mugs that have flat bottoms for excellent efficiency.
The waterproof design of this coffee mug warmer gives the best protection from accidental beverage and water spills. You can use this coffee mug warmer for your desk at your home, office, or anywhere you want.
6. Nomodo Wireless Qi-Certified Fast Charger with Mug Warmer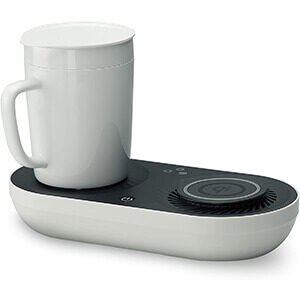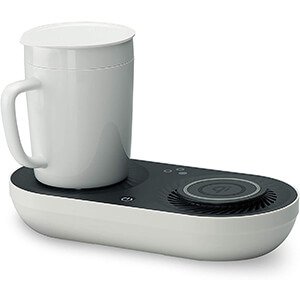 The Nomodo Wireless Qi-Certified Fast Charger with Mug Warmer and Drink Cooler is a multi-use device.  It is something that surely deserves a place on your home or office desk. It is a three in one gadget. That means there are three unique features in this one gadget. Firstly, it's a wireless smartphone charger that everyone has to have on their desk. Secondly, it's a mug warmer, something you've always wanted but probably never purchased. And lastly, it's a drink cooler that is something you probably had no idea even existed. So isn't this amazing!
In our day to day, life smartphone has become our lifeline. You might have faced problems regarding pesky charging cords getting in your way. Fortunately, this Nomodo Trio is here to save you. With Qi Fast Charging technology, you can quickly charge your wireless-capable devices. Simply set any Qi-enabled device directly on the mat and watch your battery rapidly go from zero to a hundred within an hour or less. If we start talking about this coffee mug warmer's second fantastic feature, drink cooler, then that will amaze you. The drink cooler feature is one of the coolest features you will barely find in similar devices.
Are you tired of your ice cubes melting and watering down your drink? The cooling plate will keep those cans, and cold brews chilled, so they'll always quench your thirst. This coffee cup warmer has an LED indicator that lights up when your phone is charging. It allows you to operate and understand the device with ease. You can gift this looking boat device to your friends and family as a present on any occasion. They will surely love it.
7. Norpro Decorative Cup Warmer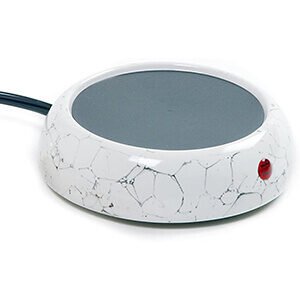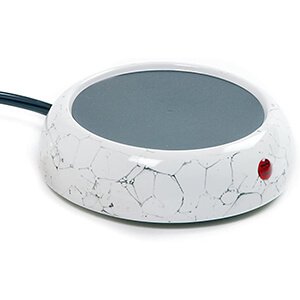 If you are searching for a coffee mug warmer that will save electricity bills and convenient to use, this Mug warmer is for you. Norpro Decorative Cup Warmer is one of the convenient mug warmers you will ever think of buying. It operates at 120 volts/ 24 watts that allows you to have an efficient device with low power consumption. It ultimately helps save on energy you're your electricity bills. It has a larger heating surface with a diameter measuring 3.75 inches that enable you to fit any mugs on this coffee cup warmer.The heating surface features excellence construction using nonstick material that is waterproof so you can easily clean it.
Besides, it's easy to maintain throughout the usage. This efficient appliance keeps your beverages at your preferred temperatures. It allows you to work or enjoy your reading without worrying about your drink getting cold. You can purchase this Mug warmer for desk and use it in your office, home or wherever you want. It has an elegant design that includes an on and off switch. With the help of this, you can operate the appliance with ease. The neon light indicator lights up when the coffee cup warmer is on, helping you to be sure that it starts working and avoids any accidents. With its 60-inch long power cord.
You can conveniently use this product and can connect to an available outlet anytime. This coffee cup warmer got a considerable number of rating on Amazon. So Don't worry! Just Purchase this warmer for you or You can gift this appliance to your friends and family on any occasions. They are going to love it for sure.
8. Misby Coffee Mug Warmer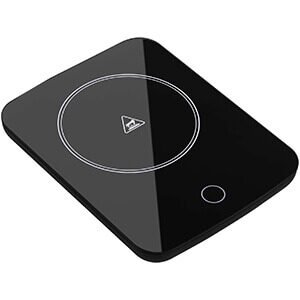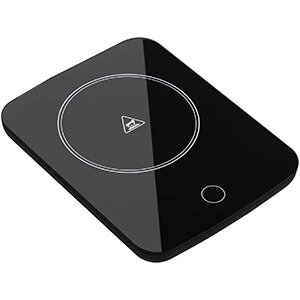 The Misby Coffee Mug Warmer features a shiny design with a white finish that gives you a stylish appliance that can add grace to any interior setting. This device comes in a compact size with a dimension measuring 5.9″ × 4.5″ × 0.8″. So you will find this comfortable to use at home or office. You can carry the product while travelling as it weighs only 6.4 ounces. As the Misby coffee cup warmer can maintain temperatures at 131°F, you can enjoy your beverage at your preferred temperature.
 The heating plate is wear-resistant, waterproof, and resistant to high temperatures that ensure your proper safety. It allows you to use, clean, and maintain the coffee cup warmer without worrying about safety issues. With the microgravity technology, this coffee warmer can automatically shut itself off or on. The cup warmer will start working, and when the beverage is hot enough, the cup warmer will shut itself off automatically. This warmer is quite versatile. 
You can warm coffee, milk, water etc. And keep your beverages at the constant right temperature at 131℉. It is the right temperature. Because 131°F is the temperature that the human body needs for good health. This coffee warmer is a great choice for keeping your body warm all day and a great helper to create a better lifestyle. It's also popular as a gift for Birthday, Christmas, even Thanksgiving. You can Pass your love and concern to your family members and friends by gifting this.
9. ANBANGLIN Coffee Cup Warmer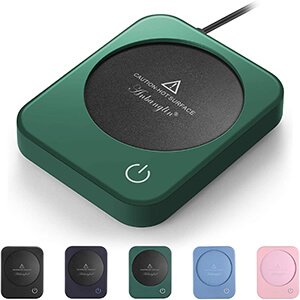 Are you looking for a coffee mug warmer for your office desk that works well and simultaneously carry an elegant outlook, then The ANBANGLIN Coffee Cup Warmer will be the go-to option for you. This portable electric cup warmer comes in a compact design with an elegant outlook that is undoubtedly a decorative item.
It comes in five different colors. You'll find this in Forest Green, Night Blue, Sky blue, black and pink. You can use this 20-watt Mug warmer to warm up your coffee, milk tea, or candle wax. With three different temperature settings, You can warm or keep your coffee up to 104℉-131℉-149℉. All you need to do is softly touch the button. This electric coffee cup warmer for desk comes with an automatic shut off feature. SO after continually working for 4 hours, it will shut itself off. Isn't it amazing! You can be tension free about forgetting it to turn off.
Moreover, there won't be any noise while using this cup warmer. The coffee warmer is heat-resistant and fire-resistant With the high-tech polyimide (pl) film material. The waterproof design avoids damage and makes it easy and safe to clean. It has a 60″ long length UL power cord that is more convenient and safer than other brands. The heating plate is suitable for Metal, Ceramic, Enamel, Tile, High-Temperature Plastic, etc. But for the efficient result, we will recommend you to use a mug with thin-wall, flat-bottom.
All the ANBANGLIN coffee cup warmers have a 12 months warranty. So this comes very affordable to anyone. So why are you waiting! Purchase this product, or if you want, you can gift this to your friends and family on any occasion.
10. KUWAN Coffee Mug Warmer
If you're looking for a desktop beverage warmer that will keep your beverage warm for a long time, then KUWAN Coffee Mug Warmer will be the best choice for you. This coffee cup warmer features an auto shut-off function that automatically turns off the warmer every two hours and ensures your safety. It has two-temperature settings that allow you to warm up the beverage or maintain your preferred heat. This warmer can go from 122°F to 131°F, allowing you to use the device according to your requirements and indoor temperatures.
This 30-watt mug warmer enables you to enjoy fast heating while saving on time and energy. This mug warmer has a Flat Bottom Cup Special Thermostatic Base, cups with diameter less than 3.54inch are suitable for our thermostatic base.
The compact design and stylish finish offers style to any interior setting in your home or office. You can gift this looking boat device to your friends and family as a present on any occasion. They're going to love this!
As there are numerous coffee cup warmers in the market, finding the right one for you can be quite confusing. That's why there are several parameters that you need to put into consideration.  Some of these factors are such as:
When you're looking for the best unit of any product, the brand quality matters. It goes for coffee warmer too. Some brands are popular for designing high quality coffee cup warmers while other brands are synonymous with poor quality units. We will recommend you to shop from popular and famous brands as they make uniquely reliable units. Besides, before settling for any brand, ensure that you undertake detailed research on the best models and those you need to avoid.
Coffee cup warmers come in a variety of sizes. The size will depend on your need for warming your beverage. If you need to warm a lot of beverages at once, you should purchase a large mug warmer. However, if you want to warm a single cup of coffee, tea, or milk at a go, we will recommend you settle for a small warmer.
Some people are not interested in how a mug warmer looks. Because they want a unit that will reliably do its job, but we will recommend you to consider the design and looks of the Mug warmer you want to buy. Always go for a model that will enhance your kitchen countertop or office desk's attractiveness and elegance. Always go for a warmer with an artistic design; one that is pleasant to your eyes. However, the demand for a coffee cup's design and looks depends on personal preference and choice.
If you always carry your Mug warmer traveling, we recommend that you go for portable mug warmers. Compact and sleek mug warmers are the best choice as they are portable and convenient for different environments, including offices.
The pricing of coffee mug warmers depends on many factors. The simple models in designs and have basic features are quite affordable and range between $15 and $100. But the high-end units with exclusive designs and loaded with tons of features are quite expensive. We will advise you to have a budget that you can use to buy the best model depending on your needs. Besides, Compare features and price to end up buying the model that will give you the best value for your money.
Everybody has different preferences in taking their coffee. Some people like their coffee to be extremely hot, while others like it lukewarm. Due to these differences, it is necessary to settle for a model that comes with a flexible temperature range. It will allow you to choose your desired temperature. Additionally, always ensure that you buy a warmer with a large heating plate and distribute heat evenly. Such warmer provides you with the best heating results.
Frequently Asked Questions
Is a coffee cup warmer safe?
A Coffee cup warmer is safe for use in warming your beverages. Coffee cup warmers do not affect the flavour or taste of your beverage in any way. Additionally, the appliances feature closed designs and thus do not pose any risk of electrocution. But you should avoid spilling beverages and water on the heating element.
Does the cord's length matter in Mug warmer?
Yes, it does. Because the cord's length can limit you in many ways, for starters, if you have a unit with a limited cord, then you have to compromise the unit's portability. If you often move your appliance, then you should avoid units with shortcodes.
Does all coffee warmer come with auto shut-off?
No. That's why you need to be quite careful when looking at the unit of choice's features and specifications. If you want coffee cup warmer with auto on and shut off functions, ensure that it has that feature. Also, check whether the Mug warmer of choice has extra features such as a USB charge port, LED display, and variable temperature settings.
Can I wash my coffee mug warmer in the dishwasher?
No. Coffee mug warmers have electrical components, and you need to make sure they don't come contact with water. Rather you can use a wet cotton towel to wipe it off. But if any spillage ever occurs, you should use a paper towel to rinse it off.
Which temperature is right for warming my coffee?
There is no such ideal temperature for your beverage. Because the beverage temperature is a personal choice, some people prefer extremely hot coffee while others like lukewarm coffee. But Always check that the appliance of choice has the capability of heating your coffee to your desired temperature.
All the Coffee Mug Warmers we have listed here are reliable, unique, solid and sturdy. The makers' design it to give you the best and most efficient performance throughout their life. These Mug warmers are multi-purpose and subsequently will give you better service than you are paying. As they are compact, you can easily carry them around from the house to the office. The warmers in this guide are customizable to give you the personalized service. This review will enable you to identify and eventually buy a product that satisfies your needs and preference.